Think what a better world it would be if we all, the whole world, had cookies and milk about three o'clock every afternoon and then lay down on our blankets for a nap.
~ Barbara Jordan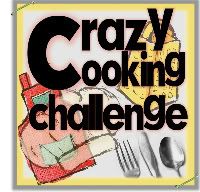 I've decided to give up my usual French Fridays slot to take part in the
Crazy Cooking Challenge
hosted by Tina of
Mom's Crazy Cooking
The challenge is to pick a blog (a non-celebrity one), choose a recipe from that blog that fits the criteria of a
featured food item
chosen each month, and then make/bake and post about it. The posts are put up on the same day at the same time, like today (see the blog hop linky below). And then of course, because we're nice people, we let the blog owner know that we've picked their recipe. And as long as we haven't majorly messed up their creation, they should be delighted that their recipe was highlighted.
Another fun dimension to this challenge is that readers can actually vote for what they think is the ULTIMATE recipe for that month's food choice. Well, it's fun if you do receive plenty of votes, but not as exciting if people think your choice is umm... not so ultimate (no offence meant to the original blogger, of course).
This month's featured food item is a universal favorite, Chocolate Chip Cookies. I've been on a cookie-baking binge lately so this just fed right into my addiction. I looked at plenty of blogs and just when I thought I'd found the best-looking-best-tasting choc chip cookie recipe, another good one showed up on someone else's blog to top it. After scouring about 30 blogs, I thought I'd never find my 'ultimate' choc chip cookie choice!
Until one day, I remembered one of my more recent favorite haunts,
Beth Michelle
, owned by funnily enough, a lovely young lady called
Beth Michelle
who lives and blogs out of Israel. Her food is always captured in the most beautiful perspective and lighting but more important than that, like me, she's fond of experimenting with her ingredients. You know that saying, "opposites attract"? Well, it certainly wasn't the case here.
When I did a 'cookie' search on her blog, it came up with several mouthwatering options. It didn't take me long to settle on her Dark Chocolate and Mint Cookies recipe for this challenge. Why? Four reasons, really: 1. they looked amazing, and judging from the ingredients, I knew they tasted incredible too; 2. they were flourless and butterless (no, do not adjust your monitor, you read that right!); 3. they contained mint chocolate chips, except I didn't have any so I swopped them for Aero Mint - oh, loveliness!; and 4. Beth Michelle made them for her brother-in-law to take on his 16-hour journey home to the US, which was a thoughtful thing she did. You see, it's always good to re-enact another person's gesture of kindness because it's like paying that gesture forward. Except in this case, I was being kind to myself since I scoffed down half the cookies accompanied with plenty of milk!
So do you reckon this will get your vote as the ULTIMATE chocolate chip cookie? Please take some time to go through the linky list below, there are fab cookie selections in there!
SOME OTHER IMPORTANT STUFF:
Online Bake Sale for Juvenile Diabetes
October 8 to10
: Gerry over at
Foodness Gracious
will be holding his first ever online bake sale to raise funds for
The Juvenile Diabetes Research Foundation
. His 6-year old daughter, Miranda, has Type 1 Diabetes and every year, they walk to support the cause. I am donating this funky package of kitchen items to the sale, and I will ship it
internationally
too :-).
Valentine cookie cutters, silicon diamond ring ice mold, silicon lemon squeezer/bottle,
pyramidal measuring spoon set, silicon tea infuser.
Bids for all items start at $10, so if you'd like to help out, you can consider placing a bid on my item or any of the other fantastic goodies
here
.
The Big Eat-a-Lot Reunion
My posting schedule has been thrown slightly off-kilt this week because my old friend, Ju, who I haven't seen in many years had come to visit all the way from Scotland where he now lives. We were classmates in junior and middle school but parted ways when we went to different high schools. When Ju left for India and I went to the United Kingdom for further studies, we lost touch completely. Well, thank heavens for Facebook because that brought all our ex-schoolmates back in touch with each other.
So the whole week has been one big reunion, which was fun because we were back to our playful (but now no longer innocent) middle school selves. It was fun being distracted away from the blog....we all took time out to catch up, to laugh ourselves silly, to eat real good food, even did some sightseeing - something we never do when there are no 'visitors' around.
Gorgeous food (clockwise, top-bottom): Eggplant, crispy Chinese leaves, fishead curry with tofu and okra,
cupcake with runny salted egg yolk filling.
Forget spatchcock chicken...this poor thing was featured on the menu, I swear!


We celebrated two birthdays. And yes, I even 'tailgated' without breaking a sweat. LOL.
We miss you already, Ju! Next year's reunion... Phuket :-)
Dark Chocolate and Mint Chip Cookies
(Recipe from
Beth Michelle
)
Ingredients:
1/2 cup dark chocolate chips, plus 1/4 cup extra
1/2 cup mint chocolate chips, plus 1/4 cup (I used
Aero Mint Chocolate
, finely chopped)
3 egg whites
2 cups powdered sugar, divided into 2 portions
1/2 cup cocoa powder
1 tablespoon cornstarch
1/4 teaspoon salt
Method:
1. Preheat oven to 180°C/375°F and grease or line baking sheet with non-stick parchment paper.
2. Melt 1/2 cup dark chocolate chips and 1/2 cup of mint chocolate chips in bowl in microwave, about 2 minutes, and set aside to cool slightly.
3. With an electric mixer, beat egg whites in large bowl until soft peaks form.
4. Gradually beat in 1 cup sugar and continue beating until mixture resembles marshmallow creme.
5. Whisk 1 cup sugar, cocoa, cornstarch, and salt in medium bowl to blend and on low speed, beat dry ingredients into egg whites.
6. Stir in melted chocolate and dark chocolate chips and mint chocolate chips.
7. Scoop a tablespoon of cookie dough on baking sheet, spacing 2 inches apart. Bake until puffed and tops crack, about 10 minutes. Cool on sheets on rack for 10 minutes. Store in an airtight container for up to 3 days.
Thanks for stopping by and have a fabulous weekend!